The Leroy Van Dyke Country Gold Tour
Mon. Sep 12, 2022 at 7:30pm CDT
Event Description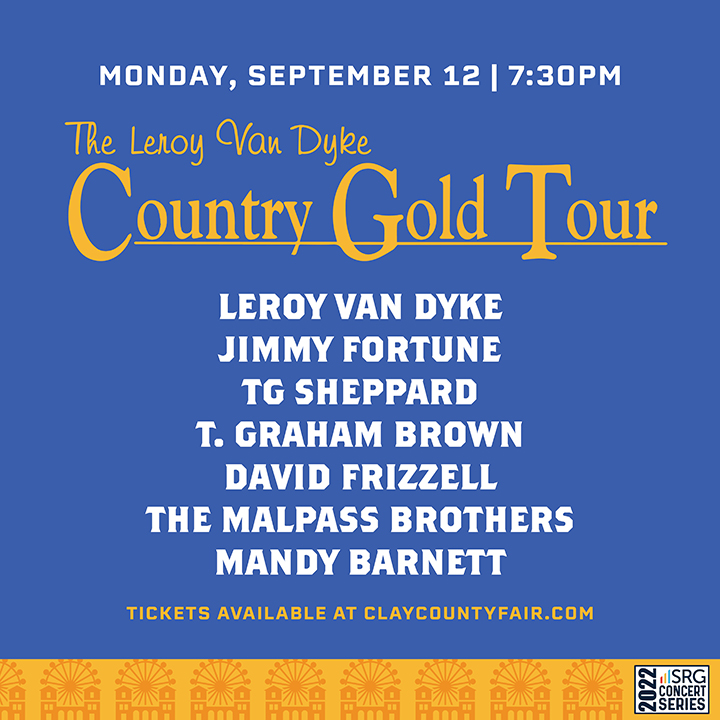 This stellar evening will feature renowned classic country music performers who have topped the charts. Enjoy them in person as Leroy, Jimmy, T.G., David, and T. Graham perform the celebrated Nashville sound that took their music around the world including hits like "Auctioneer," "Walk on By," "Elizabeth," "My Only Love," "I Loved 'Em Every One," "Strong Heart," "Don't Go to Strangers," "Darlene," and more. Joining will be public television favorites, the Malpass Brothers, and Mandy Barnett, the original star of the musical Always…Patsy Cline.
Know Before You Go:


Midwestix is the official ticket seller for the Fair. Tickets purchased from any other online source are not guaranteed to be valid. Tickets are available online at www.midwestix.com, by phone at 515-244-2771, or in person at the Events Center Box Office.


Handling & processing fees, which are applied to all purchase methods, are included in the advertised price.


Bag checks are conducted at all Grandstand events. The following items are prohibited: weapons/firearms, alcoholic beverages not provided by the Fair & Events Center, air horns/whistles or other noisemakers, helium-filled balloons, glitter/confetti, glass bottles, fireworks and illegal substances.


Fair admission is not included in purchase of Grandstand event tickets.


Children age 2 and under may share a seat with an adult; everyone else needs a ticket.