Andrew Ripp – Self-Titled Tour
Fri. Feb 12, 2016 at 9:00pm CST
Event Description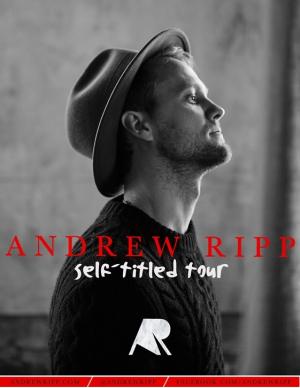 Singer/songwriter Andrew Ripp creates music that pushes the boundaries of genre stereotypes, blending the energetic beats of pop music into a soul culture and adding the depth and groove of soul music into a pop culture. Since beginning his career in 2005, Ripp's songs and records have successfully impacted a diverse and growing audience including true music lovers – fans that appreciate the nuances of a well-crafted album, and easy listeners – fans who simply want to hear a catchy tune.
Before releasing his debut album, Fifty Miles to Chicago, in 2008, Ripp first broke into the national music scene as a songwriter; his contributions, such as with Ryan Cabrera's album, You Stand Watching, have charted on the Billboard Hot 100, Top 40 Mainstream, Pop 100 Airplay, Pop 100, and Hot Digital Songs charts. Ripp's second album, She Remains the Same, was released in 2010, breaking the top 100 on the Billboard new artists chart. His third album, 2013's Won't Let Go, was produced by Grammy Award winner Charlie Peacock and was quickly followed up in 2014 with a stripped-down acoustic album called Simple, which featured acoustic versions of ten tracks from Won't Let Go, along with a cover of Justin Timberlake's "Mirrors," a crowd favorite from Ripp's live shows.
Ripp is now touring in support of his latest effort, a self-titled project that he considers to be one of his most personal and revealing albums to date.
"It took me four records and around eight years - through the loss of some great friends along the way, addiction and recovery, lots of tears, belly laughs, disappointment and resiliency to finally be confident with who I am – as a songwriter, singer and person," says Ripp. "That is why this album is self-titled. To me it's the start of something new – a new chapter filled with optimism, excitement and celebration."
A touring artist as well, Ripp's live performances never cease to please current fans, and garner new ones, with every show. He's opened for, and toured the country with, artists including Jon Foreman, needtobreathe, Will Hoge Stephen Kellogg, Robert Randolph and the Family Band, and David Cook to name a few.
Nashville-based Americana band Swear and Shake will support the show and Los Angeles-based indie/pop/rock artist Act As If will open.
www.m-shop.com | www.andrewripp.com

TICKETING NOTES: A 3% processing fee is applied to online purchases | All tickets are subject to a non-refundable $2 MidwesTIX service fee | Each and every ISU student ticket will require a valid, unique ISU student ID at the door to avoid an upcharge to the public price.